20' x 20' Standard Sidewall Kit for 8' Tent Sides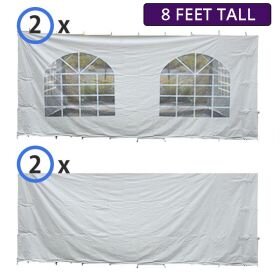 Description
20' x 20' Party & Canopy Tent Standard Sidewall Kit for 8' Tent Sides
Windy and rainy weather can be a real disappointment on an event that you spend months planning. You may not be able to control the weather, but you can control how prepared you are to handle the unexpected with our 20' x 20' Standard Waterproof Sidewall Kit. Whether you're looking to add some protection from wind and other seasonal elements, or need to replace old, existing sidewalls, our 20' x 20' Standard Waterproof Sidewall Kit makes the perfect addition to your outdoor party or canopy tent.
Our 20' x 20' Standard Sidewall Kit sidewalls are constructed from 14oz thick translucent PVC waterproof vinyl, are UV resistant and also resistant to mold and mildew. Easily retrofit your existing party tent with our standard vinyl sidewalls that simply attach with plastic clips. They also feature strapping for staking and securing to the ground (color varies by size).
Fabric Translucency: Translucent vinyl sidewalls will prevent most sunlight from penetrating, but still allow some light to filter into your party tent. This allows for some natural illumination during the day, without the need to purchase and set up extra lighting.
Please Note: Stake strapping color varies by size. It is not recommended that these sidewalls are staked to the ground during heavy winds to prevent possible damage to your equipment. It is recommended that you stake your sidewalls the day of your event so that they can be supervised.
Warranty Information: Our vinyl canopy tents, vinyl tops, and vinyl sidewalls come with a 1-Year Warranty against manufacturer's defects. Warranty does not cover improper installation or misuse. Warranty does not cover wind whip or wind crack damage from the usage of our canopy tents in temperatures below 40 degrees Fahrenheit.
241